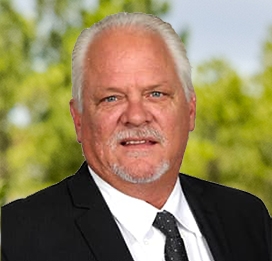 Frank L. Biggs, Jr., P.S.M.
Sr. Vice President and Director Emeritus
Mr. Biggs, is a Vice President/ Owner of GeoPoint Surveying and Director of Field Operations. Frank has managed a variety of survey projects of varying magnitude and is involved with the management of GeoPoint's survey crews and support staff on a daily basis. He joined Heidt & Associates in 1983 as a rodman. While at Heidt Mr. Biggs was promoted to crew chief in 1985 and moved into the office in 1993 where he was responsible for processing and calculating all data for the survey crews. Mr. Biggs was promoted to Director of Construction in 1996 supervising 20+ filed crews in all aspects of surveying and became a Vice President in 2006. Frank was Project Manager on all Master Planned Communities in excess of 1000 acres from their inception until their completion. He worked directly with clients, contractors and governing agencies to insure all client objectives were achieved and projects completed on time.
Mr. Biggs vast knowledge of Surveying, strong client relationships and unique ability to perform and meet all client expectations makes him a vital part of any team. Frank worked for Heidt & Associates for 26 years rising from the bottom to the top of his field before the dissolution of Heidt in 2009 and the creation of GeoPoint Surveying, Inc. Frank has been involved with boundary surveys and construction layouts for numerous residential and commercial projects in the greater Tampa Bay region. Mr. Biggs has surveyed land in 17 counties in the state of Florida, including Hernando, Pasco, Hillsborough, Manatee, Polk, Pinellas, Osceola, Orange, Franklin, Bay, Washington, Santa Rosa, Marion, Manatee, Hardee and Sarasota.
Request a new survey or one from the archive. With over 70 years of historical survey data, GeoPoint's Survey Archive is the most comprehensive collection in Florida.
A valued trade partner...
I have had the great pleasure to work with GeoPoint over the past several years. I have come to depend on the level of quality and responsiveness that they provide daily. They are my go to consultant when it comes to all Due Diligence, Platting, Construction Staking, and As-Built Services. I am happy to call them a valued trade partner of PulteGroup.
GeoPoint gets it!
GeoPoint Surveying has been an integral part of our residential land development projects throughout Florida for nearly a decade. Their extensive knowledge of land development and construction makes them an invaluable partner. In our line of work, schedules can get hectic and GeoPoint gets it. Whether they are providing due diligence related surveys, subdivision plats, construction staking or as-built services, every project manager, field crew, technician, and staff member is accommodating and provides exceptional work on time."
Starts with survey and ends with survey!
"I have used Geopoint surveying for many years. Building a job right starts with survey and ends with survey! Having a reliable, competent, trustworthy surveyor on your team is invaluable. I appreciate GeoPoint's service and look forward to future projects."
Always great to have GeoPoint on our team!
"I've worked with GeoPoint for years now, and they are always great to have on our team. I'm currently working daily with Justin Brantley and the GeoPoint team on Del Webb BayView, an extremely important project for our division's success. Their dedication to our partnership and this project is evident in their high level of service, consistent communication, and willingness to respond to any development needs."
Impeccable customer service...
"We hire GeoPoint for the majority of our commercial projects because of their impeccable customer service, their ability to react quickly on aggressive project timelines, and the extensive experience of their survey crew chiefs who have great general knowledge about construction and the building process. The team in their construction support department is known for being able to find problems in engineering designs before it becomes a construction issue, which saves us time and resources. These guys know their stuff and they deliver - that has made GeoPoint a valuable partner in our business."
A truly awesome team...
"Thank you to Rob Osteen and Bobby Lester of the GeoPoint team from Latitude Margaritaville, a Minto Community. These two gentlemen are always a phone call away and very receptive to last minute askings. Both Bobby and Rob are very professional and willing to provide assistance at a moment's notice. At the rate of building here in Latitude Margaritaville, this is exactly the kind of representatives we need to keep up with the high demand. A truly awesome team, and I am thankful that they are part of my support team here in Latitude Margaritaville of Daytona Beach."
GeoPoint raises the bar...
"With an unbelievably aggressive construction schedule planned, we knew that GeoPoint was the only survey company we could trust to bring on to our Amazon distribution center project. Their team was able to react quickly on pivotal project timelines and their detail-oriented project managers identified potential engineering issues before they became construction problems. There's no doubt that GeoPoint raises the bar on our expectations on every project."
Exceptionally talented and experienced surveyors...
"GeoPoint Surveying is a team of exceptionally talented and experienced surveyors, mappers and technicians that understand the necessity of highly accurate data collection and graphical display for use in a wide array of survey applications. The firm continues to evolve with rapidly changing technology and is always on the forefront of the industry. They have managed to do this in a highly competitive business environment, recognizing that price and schedule are important but never sacrificing quality."
They are leaders in their industry...
"I have worked with the founders and numerous staff of Geopoint for over 20 years and have never been disappointed. Their professionalism and knowledge in the surveying industry is unmatched. They are leaders in their industry and I highly recommend using them for all of your survey needs."
It has been a pleasure...
"Please know that Jim and I sincerely appreciate your work and commitment to this project. You quickly put together an impressive package! It has been a pleasure to work with each and every one of you. What a winning team we have."
The job will be right!
"GeoPoint Surveying is the finest, most professional surveying firm in the area. When GeoPoint is on the job, you can rest assured the job will be right."
Killing it...
"Just thought you should know the SUE guys appear to be killing it! Fast, polite and easy to understand deliverables. Keep up the good work gents!"